E-Z UP® Table Covers
Turn your table into a billboard with an E-Z UP® table cover! All E-Z UP® covers are customizable and can be made in a total of 22 colors. Add on custom graphics to your table cover and make a lasting impression that your customers will never forget!
Yes, we accept School District Purchase Orders - just fax it or email it!
Let SFG help you design your table cover. Contact us at 866-311-SFGI
TABLE COVER FEATURES INCLUDE:
Available Sizes:
2' x 4' (.6 m x 1.2 m)

2.5' x 6' (.8 m x 1.8 m)

and Custom Sizes
Height Options:
31", 35" and 41"

(79 cm, 89 cm

and 104 cm)
Professional Grade Fabric: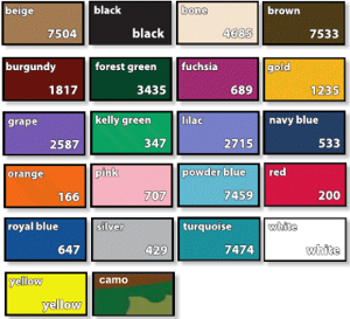 TABLE COVER CUSTOM GRAPHIC OPTIONS: